Don't Let Your Preconceived Notions Turn You Off To "Elementary"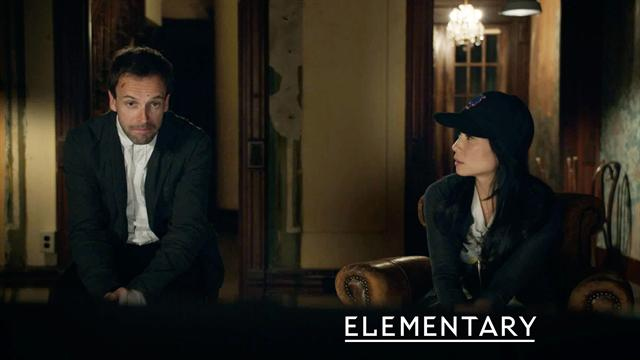 A typical experience: You watch Sherlock.  You love Sherlock.  You think Martin Freeman and Benedict Cumberbatch are the most amazing duo of all time.  You gleefully introduce the show to your less cultured friends and find a way to tactfully call them myopic for only knowing about American television.  You suddenly feel the need to buy and wear a lot of scarves and take them off dramatically.
You hear about Elementary.  You scoff at the idea that there's an American remake of a British show.  I mean, yes, The Office was good, but lightning doesn't strike twice.  You roll your eyes at the idea of Lucy Liu as JOAN Watson, seeing it as a blatant, typically American attempt to take a perfectly good idea and make it all sexy-like, because we can't really pay attention to things that don't have boobs on them.
But you start to hear some good things about it.  Maybe you even read an article on a pop culture website penned by a devastatingly handsome yet sensitive writer.  So you give it a chance, maybe watch the first couple episodes.  And what do you find out?
It's actually worth watching.  I'm not going to come out and say that it's must-watch television or some amazing, unknown gem, but it's compelling, the characters are good, and I see a lot of potential in the first few episodes.  Specific bullet points as I watch the first two episodes:
The pilot – Pretty odd start.  It moves fast, doesn't screw around.  3 minutes in and we've set the terms of the show already.  It's really hard not to compare it to Sherlock.  This version of Holmes has the frenetic energy but not that innate, penetrating charisma that Cumberbatch has.
And we're on to the main titles.  That has got to be one of the most bland opening titles I've ever seen.
The first case.  Sherlock has the rapid-fire deduction routine down.  "Sometimes I hate it when I'm right," he states to himself as they find a murdered woman in a secret room he deduced the existence of.  It makes him seem… human.  He's not a self-proclaimed "high-functioning sociopath" like Cumberbatch,  Although, later, interviewing the surviving woman, a bit of that uncaring, "I'll say or do anything to get at the truth," side comes out.
Another thing I'm noticing as I watch the first episode – the humor is missing.  Both the original books and Sherlock are quite funny in their own way.  Maybe I'm expecting too much, too fast, but the first 20 minutes are pretty much devoid of good banter.  Sherlock interrupting Watson at the opera comes close, but it feels a little forced.
But a funny thing happened as the episode went on.  In the end, it's Watson who discovers the crucial detail that ties everything together and allows Sherlock to get his man.  Instead of Sherlock crashing Watson's car into the doctor's car being part of some elaborate plan, as Watson assumes, it's what it looked like: a temper tantrum.  It's clear that this will be much more of an equal partnership than the duo in Sherlock – in that show, John Watson's basic character trait is that he has Sherlock's back.  He's utterly devoted to his infuriating friend, as Sherlock is to him, in his own way.
Elementary's Joan Watson is more independent, more flawed.  She has a past that haunts her, and rather than a psychosomatic leg injury that becomes a joke and is discarded partway into the first episode, her past will not go away so easily.  Her relationship with Sherlock will be more uncertain, more fraught.  After the big reveal, the duo watches a baseball game in Sherlock's apartment.  Predictably, Sherlock calls the last three outs of the game.  But Joan's enthusiasm for the game itself, and their conversation about it, lets a little bit of that oh-so-important, missing banter shine through.
I think what made Sherlock so impressive (well one of the things; there are quite a few) was that instant, obvious chemistry that Freeman and Cumberbatch have.  Most shows take a while to get that.  Elementary might be one of them.  As I finish out the first episode, I can't say that I'm hooked, but I'm pleasantly surprised and curious to see where it's going.  Even though I'm not a big fan of procedurals in general, there's enough meat here to keep me interested.
Second episode: Whoops, spoke too soon on the main title.  Turns out there actually is one; just not in the pilot.  It's pretty decent, kind of a Rube Goldberg machine OF DEATH.  Not that inspired by the music, though.  Very generic.
The nature of the case almost lost me at a few points.  I felt it was needlessly complicated and I was really struggling to stay interested at the whole "children kill each other for their rich dad's inheritance" issue.  One of the major downsides of procedurals is that, episode to episode, the antagonist changes.  It's really hard to have a genuine, nuanced 'bad guy' capture the audience in 43 minutes or less, and as a result a lot more of the show hinges on the charisma of the leads and the relationship between them.  I'm assuming as I get into later episodes there will be a recurring villain or two (just a stab in the dark: female Moriarty?), but because it's a procedural each episode is going to follow that kind of formula, which really doesn't leave you much wiggle room.
And as the second episode comes to a close it gives me both hope and fear: fear that this will be too formulaic for my tastes, but hope, because the chemistry between Sherlock and Joan is a noticeable step up.  Their interaction in the second NA meeting they go to is actually funny and charming at the same time.  Their arguments about being emotionally closed off really reminded me of House – House and Wilson, who of course were based on Holmes and Watson.  Round and round the circle goes…
What say you, gentle viewers?  For those of you that have not seen the show, have I convinced you to give it a try?  For those of you who have seen the full season, am I getting my hopes up only to have them dashed, or do you think this is a legitimately good show?