Seeking Other States, Other Lives, Other Souls: Lessons from a Journey
I originally pitched the idea for this post to Paul as yet another list, one that sung the praises of five independent games that I thought merited not only playthroughs but ownership. They were Braid, Limbo, Passage, Flower, and Journey. Apparently one needs a one-word title in order to get any street cred. Duly noted, independent gaming industry! I had played the first four repeatedly, and each experience was a great one. I had even managed to download Passage solely on the recommendation of a friend, so blindly began playing with no idea what to expect. That may have been the first time two separate playthroughs combined to make one profound gaming experience, as opposed to simply providing me with an alternate storyline for my character. But, more on that in a later post.
Journey was the only game I hadn't actually played when I pitched this piece. Flower (a game by the same developer as Journey) was exceptional, and I had every confidence that Journey was going to follow suit, so I went ahead and added it to my list. Holy hell, was I right. Not only was Journey exceptional, it cemented my belief that games are unabashedly an art form, in spite of what a certain movie critic who shall remain nameless may argue. PS. Why are we taking what a film critic says to heart when it comes to video games? Do we ask what literary critics think about paintings? Or theatre? Or music?
Journey was, simply, one of the most profound experiences I've had, ever. The artwork was incredible, the gameplay was easy to master, and the soundtrack served to heighten my emotions to the transcendent levels that I've only been exposed to at the symphony.
I began my trek as a naive avatar, a mountaintop with a beacon of light clearly being my ultimate goal. Why? I couldn't say, but I guess I've played enough games that I was able to recognize an endpoint once the camera decided to spend a cutscene panning to it. I wandered, discovering how the world worked, singing strange musical notes over and over (your character can't speak nor can you use the ubiquitous headset as the player), and unlocked mosaics that clued me in to the history of my people. I slid down dunes, I learned to fly with the aid of several different cloth creatures, and I found glowing bits of light that lead to me gaining a scarf of Whovian proportions. The scarf was a kind of health indicator and power meter, I eventually realized. I played rather late at night, as is my day-job-possessing wont, so I was fully prepared to never meet another player.
But here's the thing. Meeting other players is the bread and butter of Journey. And fortunately, I did.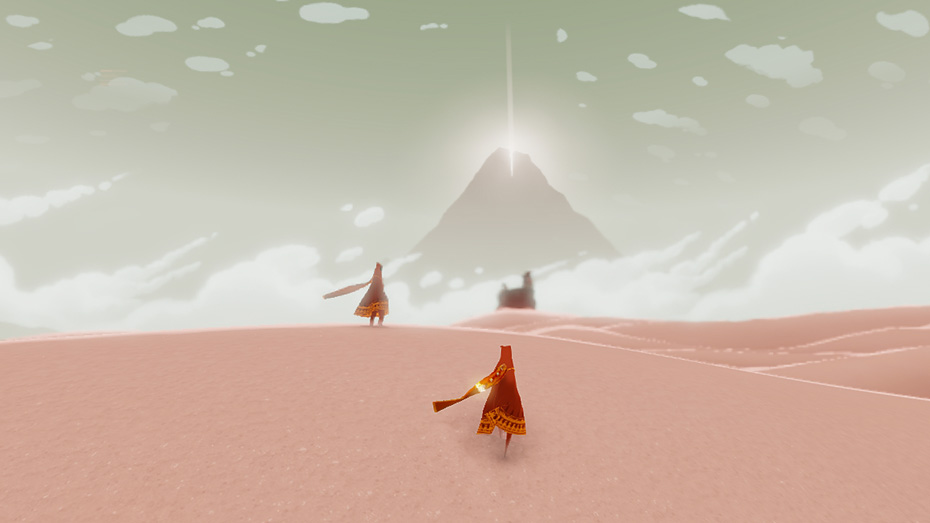 I felt a legitimate thrill pass through me when I realized the other red-clothed being jumping and singing wasn't just another creature enabling me to fly, but a real flesh-and-blood traveler. Or more precisely, the representation of a real flesh-and-blood player. Sure, we could only sing to each other (each note bringing forth a pictogram that identified us, so there was no question I was who I was, or they were who they were), but we both seemed happy to find each other in the wilderness.
We traveled together for a great while, working together to gain access to the next levels, both pausing to sit down in the sand to meditate. Eventually, though, my companion and I came to an impasse. One particular portion of the game required a simultaneous bit of flying and singing that I was unable to master easily, and he or she decided to move on without me. They gained access to a high ledge that I was unable to reach, in spite of my floundering, and decided to carry on their journey alone. It was the first of many moments where the individual need outweighed that of the duo. They moved on, and I understood why—frankly, my struggle was just this side of embarrassing and went on far too long. I continued to work my way through what I needed to do, hoping futilely that I could catch up with them on the other side.
Soon enough, yet another adventurer came across my path, saw my predicament, proceeded to sing to me until they had my complete attention, showed me what needed to be done to reach the high ledge, then floated back down next to me to await my success. I only needed to see their example once to get what I had been missing all along, and soon made my way to the previously unobtainable position. (Lest you think I'm the worst of all gamers. We all need a little help, now and then.)
So now I had a new companion. The next stage of the game was considerably darker, both literally and figuratively, and we spent several minutes exploring the inside of a cavern, seeking out the sprites that would lengthen our scarves, making sure each of us collected those the other had found.
Then came the time to move on to the next stage. My companion suddenly became very vocal, singing their musical notes again and again, and moving away from me with purpose.
I didn't understand. And then they floated away into the darkness, and I couldn't hear them anymore. They left me. I was on my own. I sang out forlornly, hoping against hope that my friend was merely searching for more scarf-growing orbs, but to no avail.
I carried on into the darkness alone.
And let me tell you something, it was scary. You all know how scared I get from video games, so I don't need to go into too much detail when it comes to the giant stone dragon suddenly bursting forth from the sand in front of me. I was alone. I had a friend right before I came into this place, but now I had no one, and this dragon (eventually two!) was relentlessly searching for me, aggressively dive-bombing once its one eye caught sight of me moving in a useless attempt to flee. Every time it hit, a bit of my beautiful, long scarf was torn away.
I made my way through the barbaric ordeal, and eventually came to a sunnier level. It was still tough, but at least I was back in the light. And I even found another friend to journey with. Right when I thought I'd be alone forever, having gone through the worst with no support, I found someone else. Someone who ended up staying with me until the very end. I'll save you the spoilers for the rest of the game. Suffice it to say I wept. And suffice it to say I was glad for the company.
The forced co-op is where this game excels (you can only turn it off by signing out of the Playstation Network). The game is easy to learn. The graphics are stunning. The soundtrack is killer. The journey is epic. It would be possible to learn and grow from playing alone. But it is only through other people that you learn what's important. And I'm not talking about the pedantic "it's the journey, not the destination." That is true, sure. But where this game becomes weighty is in the interactions you have with your fellows. Stripped of all modern communication, you're left with only bare-bones joy and despair.
It is about the journey. It is about who you take with you. But it's also about realizing some people will leave you just before things reach their darkest. It's about finding the strength to carry on alone when there's no one to help you through. It's about discovering that once you do so, there may be someone waiting on the other side; someone to share the newfound joy you've so absolutely earned. No other experience save life will teach you these things.
Are video games art? Embark on this Journey, then you tell me.