A Critical Panning of Star Wars: A New Hope
You can read why exactly it is I wrote this at the very end. First, here's a harsher look at Star Wars as if it were a new release and I just watched it for the first time in 1977.
Sci-fi is a tough genre to compete in. With classics like The Day the Earth Stood Still, Metropolis and Forbidden Planet, to have a newcomer show up and try to upset the apple cart is a risky prospect. Young George Lucas only has two rather forgettable features under his belt, THX-1138 and American Graffiti, and Star Wars is his biggest, and boldest, effort to date.
Unfortunately, while his eye-popping special effects might be like nothing we've ever seen, the story he's told here is one we've heard a thousand times before. One-note characters and haphazard plotlines litter this would-be epic, and by the end, the flaws simply overwhelm the redeemable pieces.
The untested Mark Hamill is Luke Skywalker, a space farmer who spends his time cultivating moisture on some desolate planet that looks suspiciously like Tunisia. When he intercepts a message from a princess hidden inside an escaped robot, he begins a quest to rescue her and in the process learns something about his own history. He enlists the aid of local hermit Obi-Wan Kenobi (Alec Guinness, who is practically snoozing through the duration of the film) and Han Solo (Harrison Ford), a smug bounty hunter with a hairy companion whose name I won't even try to pronounce. In attempting to save the Princess Leia (Carrie Fisher with a distractingly strange haircut), they must take on the armored Darth Vader (voiced by James Earl Jones) and his floating planet-destroying space station.
Two suns? I think it might be a touch too hot for any water, much less human life.
The "boy finds out he's something special" story is beyond played out at this point, and seems to be the spark for every other feature these days. Here, Luke discovers he has the power of "the force," a mystical property that allows him to effectively wield a laser sword known as a "lightsaber" and move small objects with his mind. I bet it saves him loads of time during household chores.
The scattered order of the "Jedi" who use these force powers are shameless stand-ins for samurai, and Lucas has lifted practically the entire plot of A New Hope from various Akira Kurosawa films, with of course the central "save the princess" story the same as in hundreds of other similar tales. Underneath the blaster rifles, beam swords and space planes, there's nary a new idea to be found here.
Luke whines far too much for a lead, while Solo is so cocksure of himself he always seems like he can't be bothered with anything that happens on screen. The two are thrust into a strange love triangle with the princess, but there's nary an ounce of chemistry between any of them. The two robots serve as comic relief in a film that doesn't need it, and it's kind of hard to tell jokes when one of them can only communicate in beeps and boops. Both seem entirely extraneous to the film.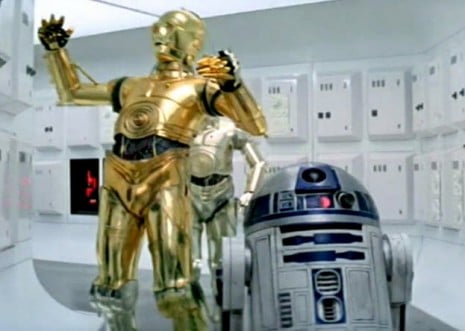 Robotic Laurel and Hardy fall flat.
It appears the only real actor of the bunch, Alec Guinness, wanted out as soon as he could, and his Kenobi character dies early on in an incredibly awkward fight sequence with Vader that has him disappearing on the spot and haunting Luke the rest of the film as some sort of ghost. The film doesn't even bother explaining the details of this, and we're just supposed to attribute it to this mysterious "force" that's never adequately explained.
The threat of the film is simply ridiculous. A space-station the size of a moon? Every person on earth working 24 hour shifts would take about ten million years to build such a monstrosity, and the material costs alone would bankrupt an entire galaxy. And you're expecting us to believe that this thing has a weakness where a singular shot can destroy it? That's like saying you can throw a rock into the right sinkhole on earth and blow up the entire planet. I understand this is sci-fi, and we have to suspend disbelief, but Star Wars simply goes too far. Whether it's deflecting laser beams with a sword or loud explosions in space, there's too much here to ignore that goes against every law of science.
Character development? What character development? Luke goes from space redneck to master warrior in what seems like twenty minutes. Han is beyond a stereotype of a gun-slinging cowboy, but unfortunately far more talkative than Eastwood. The princess has the same pouty look on her face for the duration of the movie whenever she's not yelling at Luke or Han.
Undoubtedly Leia's hairdo will go down as one of the worst in movie history.
The film is left obviously open ended for a sequel, but I can't imagine there's much more to this universe worth seeing. Yes, the action is neat if you like your sense being constantly assaulted, and a few characters like the mysterious Vader are worthwhile (I'd like to know more about him in any planned future installments), but overall, it's a sea of one dimensional characters in a recycled plot taken from far better films.
Star Wars is a battle for our hearts and minds, but one it ultimately loses. It was a valiant effort to propel the genre forward, but ultimately sputters before it can make a jump to hyperspace. Lucas may have a good film in him yet, but we haven't seen it thus far.
2 out of 5 stars
———————————————————————————————————————
The reason I wrote this is because I've been dismayed to read through what feels like pretty unfair criticism of The Dark Knight Rises over the past few days. If it's not your favorite movie ever, or you think the other films were superior, I can respect a difference of opinion. But to say it outright sucked? That seems disingenuous to any objective observer.
My point with this post is to show that it's a lot easier to be negative than positive when talking about a piece of media. As someone who reviews 50 movies a year at the least, it's a breeze to trash something, while it's much harder to explain why it is a film is great. It's easy to find minor issues or plot holes in most films, Star Wars included, but if you take the flaws and blow them out of proportion, you make it sound like the entire movie was a disaster when really it was just a few bits and pieces that were off.
Even if segments of what I said about Star Wars, or what others say about The Dark Knight Rises, are true, the good aspects vastly outweigh these details, and if your entire movie experience is ruined by two minutes of flaws in a three-hour feature, I don't know what to tell you. In my review of TDKR, I pointed out things I saw that were amiss, but that said, the entire thing still felt like a five star viewing experience.
It's "cool" to hate things that are popular, and it's easy to turn a few flaws into a dismissal of something worthwhile. I know not everyone has to share my viewpoints, but the reaction by some to this film by certain fans and critics has been maddening, and I just wanted to show that you can go full hate-mode on ANYthing, even one of the most beloved films of all time. As ridiculous as this review sounds to you, that's how ridiculous trashing of The Dark Knight Rises sounds to me.
For more on this, read Zack Ruskin's fantastic piece from yesterday about expectations and disappointment.