May 19 2014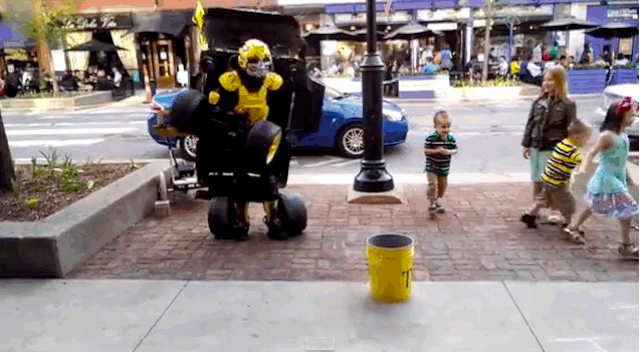 I was recently in Las Vegas where I saw a surprising number of street performers dressed up as Transformers robots, dancing around, attracting the attention of a seemingly endless parade of drunken English tourists.
But none of them were as cool as this guy, who can actually transform into a car and race around, delighting children (and presumably drunken English tourists) everywhere.
FILL THAT BUCKET WITH MONEY, CHILDREN.
More Unreal Posts
One Response to "Fully Committed Transformer Performer"
#

Adam Phoenix

on 21 May 2014 at 8:49 pm

This is taking place on Main Street in downtown Ann Arbor MI! You can see Both the Chop House & Connor O'neil's Irish Pub & Restaurant Behind "Bumblebee"
Leave a Reply
You must be logged in to post a comment.