Sep 12 2013
We tend to like people more if they like the same things we do, to a degree that's usually inversely proportional to the ubiquity of the thing in question.  What I mean by the second part of that convoluted opening sentence is that I'm not going to form a deep, emotional bond over the fact that we both like pizza.  But maybe you meet a girl at a party, and then you see her the next day reading American Gods and listening to Ted Leo – well, maybe you melt just a tiny bit, because f-yeah, that's awesome.  She gets me, you think.
It's interesting how we use pop culture as a touchstone.  If I paint you a picture of a man who lists his favorite show as Duck Dynasty, doesn't it also make sense that he likes NASCAR and Hooters?  And aren't you kind of honing in on some kind of mental picture already, without knowing any actual personal details about him?  What a fat, sloppy loser.  Let's go ahead and make fun of him.  He doesn't care.  He doesn't even exist.  But you know what does exist?  This article, which is about how we use pieces of pop culture to judge people.  Okay, so that segue was not the most elegant thing ever written.  But you know what is?  This article, which you should read immediately.
Me failing at both segues and homophones.  You might say that I'm homophonbic.
So, cultural touchstones.  Picture the following scene, which actually happened to me: You're at a friend's engagement party.  You know maybe 20% of the people there, but nonetheless you get into a group conversation about movies.  You make some very salient points about the evolution of bad guys in movies and how they mirror the cultural fears of the day.  Someone mentions vampires and how they fit in.  You start talking about the various attributes of vampires and how they reflect a traditional or conservative society's fear of liberalism, and after a few seconds a girl cuts you off:
"No, that's wrong.  Vampires aren't actually killed by stakes to the heart or crosses."  Her tone of voice was condescending, as if she were gently correcting a small child's assertion that Vin Diesel was the first man on the moon.  "Sunlight doesn't bother them either.  It just makes their skin kind of glitter."
Yep.  She took a rich literary and mythological history, all the way from Romanian folklore to Bram Stoker to Anne Rice, shoved it out the airlock, and said, "Nope, it's Twilight.  Just Twilight.  You know, Twilight and Twilight and more Twilight."
I don't think I've ever had such a rapid deflation of my opinion of someone.  It was like blast doors going down on the possibility of us becoming friends.  Look, I know Twilight is an easy target, and I think it's actually a fascinating topic to look at how and why it became the phenomenon it did despite its many flaws, but to take it that seriously, to unflinchingly and unapologetically put it forth as gospel just disqualifies you.  From, take your pick.  Being a real person?  Knowing things about things and being able to talk about said things?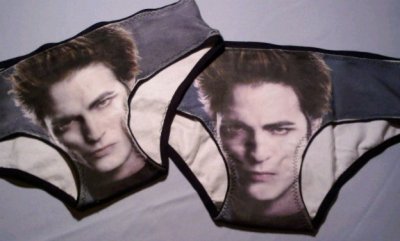 Hypothetical:  A woman goes home with you and things progress to the point where you discover that she's wearing these.  You shut it down, right?  100% of you will say "yes."  But most of you are lying.
So there are examples, like the one above, where the fact that a person likes something means you're pretty sure you're not going to get along.  But what about the more interesting version of that, the version where a piece of pop culture is so viscerally "you," where you enjoy and appreciate in such a fundamental way that for a person to express negative feelings towards it is a dealbreaker.  "If you don't like X, then I'm pretty sure we can't communicate on a meaningful level because you're an alien."  A frequently seen version crops up in YouTube links a lot, something like "watch this video  SOOO CUUUUTE if u dont like u don't have a soul!!!"  Well, crazy cat lady (all YouTube commentators are crazy cat ladies – true story), I happen to have a soul.  It's just a bitter, twisted soul that takes joy in other people's misery.  So there.
Onwards!  I picked a TV show, a movie, a book, a piece of visual art, and a song.  If you don't like all 5, you're not invited to my Sweet 16.  Sound off in the comments below about Twilight, crazy cat ladies, and my worthless husk of a soul.
A book:

The Hitchhiker's Guide to the Galaxy (5-part trilogy), by Douglas Adams
Something I heard someone say about it once: "It's just silly.  It's a bunch of people in space and one of them has two heads, and the writer keeps going off on tangents and it just makes no sense.  Everyone has silly-sounding names.  It's like a kid's book."
My reaction: YOU ARE THE ONE WHO IS LIKE A KID'S BOOK.  You…you… monster.  You want to talk about no soul?  You can't be a person who smiles and makes jokes sometimes and gives your buddy a ride to the airport and not LIKE THIS BOOK.  What, do you hate laughter?  Here, HERE.  Shut up, stop talking.  Read this part – NO, STOP TALKING.  Just read this, the first. damn. sentence. of Book 2, The Restaurant at the End of the Universe:
The story so far:

In the beginning the Universe was created.

This has made a lot of people very angry and been widely regarded as a bad move.
Case closed.
A TV Show:
Mystery Science Theater 3000
Something I heard someone say about it once: "I couldn't sit through ten minutes of it.  The movie was really bad."
My reaction: (Nuclear detonation)
Srsly, you guys.  If you don't like or don't get MST3K, we won't connect on any meaningful level.  The crew is so good, so clever, that they can take a sentence that has no inherent humor, inject it into the exact right place, and make it funniest thing you've ever heard, a line so good you will be unable to control your laughter. ("You're getting a lump of coal" from Space Mutiny, for example).  If you can watch this clip without laughing out loud at least once, then congratulations on figuring out how to get on the internet, because you're a zombie.
A movie:
Indiana Jones and the Last Crusade
Something I heard someone say about it once: "(nothing)".  I've literally never heard anyone badmouth this movie.  I had to pull a bad review off Rotten Tomatoes: "The final section, in which Indy must claim the Grail and save his father's life, is imbued with a turgid, pop-mystical tone."
My reaction: Reacting to a canned quote isn't nearly as fun.  I can't work up the right amount of righteous indignation.  Let's try this: If you don't like this movie, you don't like fun.  Or your idea of fun so far differs from mine that you might as well be some kind of robot designed to do something dastardly to spreadsheets.  If you can't get behind Harrison Ford and Sean Connery as adventure-seeking father and son archeologists, what exactly can you get behind?  Idris Elba and Michael B. Jordan as a father/son detective agency in a gritty, darkly comedic TV adaptation of Encyclopedia Brown?  I mean, yes, do that, they should make that show immediately, but my point still stands. (Honorable mention for movies that work as a cultural touchstones: Galaxy Quest, The Princess Bride)
A piece of music:
*Yeah, not this version specifically, but Youtube has terrible sound quality anyway.  And besides, I wouldn't want to deprive you of Ben Stiller, Jack Black, and Robert Downy Jr . as the Pips, even if the sound quality is abysmal
Gladys Knight and the Pips – "Midnight Train to Georgia"
Something I heard someone say about it once: "Gladys Knight wasn't that good of a singer, she just has a really powerful voice.  The Pips don't do anything, they just do synchronized dance moves and bland backup vocals."
My reaction: HOW DARE YOU.  I would give my left brain hemisphere to be a Pip, as long as the right brain hemisphere was the one in charge of being totally smooth and BACKING UP GLADYS FRICKIN' KNIGHT.  I dream of becoming a Pip.  Going around the country, cracking wise with the other Pips, letting Gladys do the heavy lifting and coming up with cool new dance moves and chatting with TEH LADIES?  You, sir, do not understand music.
A piece of visual art:
What this is, why it's here: Self-explanatory.
Because I think not liking Calvin and Hobbes is probably the closest litmus test there is for not having a soul.
More Unreal Posts