Jul 25 2012
[Note: This open letter to Tom Hardy's Bane is intended for audiences that have already seen The Dark Knight Rises; and is inappropriate for people who have a tendency to be late to the party. Spoilers ahoy! Also, it's Wednesday! What have you been doing with yourself? Living your life?! No excuse. They're going to revoke your nerd card, mark my words.]
Dear Tom Hardy's Bane,
I think you're having a tough go of things. You're dead, for one thing. Aside from that, many people are wondering about your true motivation during your recent occupation of Gotham. Many people have found your brawling skills to be lackluster and disappointing. Many people wonder if your mask is delivering real Venom, or if it's just some Nolanized, grittily realistic pain reliever like morphine mist that you have to constantly inhale to keep your physical pain at bay. Many people think your death is the lamest. Many people can't understand what the hell you're saying.
I think I understand what you're saying. But not with your words, or even your eyes. Those help, but I think it's your body, the way you move, that really tells me what's up. I was an actor once, and I took a lot of arty farty actor classes. My favorites were those that focused on form and physicality, my personal weak points. I tend to rely heavily on words.
I took a mask class, a clowning class, a commedia dell'arte class, and some others that are so specific only the nerdiest of actor nerds would know what I was talking about. All of them taught me about the ways people carry themselves and hold their bodies, and what that says about their character. We all know how to read emotion through one another's faces, and watching one another's mouths move as we speak helps us to actually hear the words being spoken. So what happens when we cover our faces and mouths? We learn to read the rest.
There are a lot of actors who are great at expressing themselves physically. Andy Serkis is an obvious example. His Caesar in last year's Rise of the Planet of the Apes was one of the best performances I've seen—nevermind that the audience never sees his human face.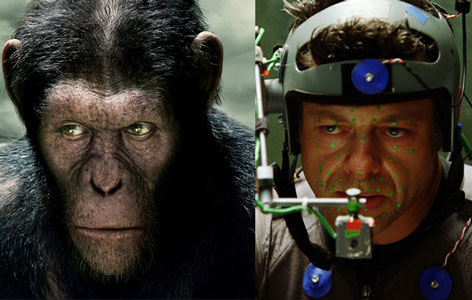 Doug Jones also springs to mind. He turned in a fantastic performance in Hellboy, in spite of his Abe Sapien being voiced by another actor. (You may be able to sympathize there, what with your voice being filtered through several layers of sound design before reaching our ears.) He was downright masterful in Pan's Labyrinth, giving life into not one, but two characters that relied on movement.
But Andy had his entire face mapped for motion capture, and Doug got to make use of his mouth for both Fauno and Pale Man. Both actors are also known for their exaggeration of movement: Andy's adept at portraying other species because he's so willing to get down on the ground, to swing from trees, to stretch his human's body into a foreign shape. Doug is a full-on mime. You are not quite in the same boat on any of those fronts.
How about Hugo Weaving's V in V for Vendetta? There's a guy who's got no face, no mouth, nor even eyes to express himself.
But V gets in so many fights! So many fights where he's an acrobatic, knife-throwing crackerjack. I'm not green; I'm aware all actors utilize doubles and stand-ins while shooting a movie, but V himself is represented as a man who runs across rooftops and dispatches foes like a veritable ninja assassin for a good portion of the film. At these times the man in the mask is Hugo's stunt double, David Leitch.
So V's body is kept in motion by two men. Rumors abound that some of the final shots are of James Purefoy, the actor originally cast for V, which brings the total to three. That's not quite you, either.
You, Tom Hardy's Bane? You're a little different. What struck me while watching you onscreen was with what subtlety you were able to relate your character's identity. You showed me a masked performance that didn't verge on grandiose gesture to get your fundamental point across. And I still saw you. I can see you, you beautiful, sad monster!
I see a man so racked with pain that his drug barely keeps it at bay. A man whose body is strong yet stiff, powerful yet slow. A man whose flexibility of mind makes up for the lack thereof in his limbs. And where did you get that accent? Oxford? A band of Irish gypsies? Thank god you have it, or I'd never have been able to make out anything above the growl of your apparatus.
There's something else I see, too. Part of it is revealed in your costume. The chestplate that holds the canisters of your miracle drug also plays suspiciously like a piece of armor. When you are particularly pleased with yourself, you hook your thumbs into it. A gesture toying with the image of that Oxford scholar doing the same with his braces, perhaps? But I notice it's a gesture that brings your massive arms into your sides, elbows tight at your waist. When we see you seated from behind, your gnarled spine is curved inward. Your head is down, knees up. What are you unconsciously trying to protect? What lies there at the center of your chest? How much is it already hurt?
So what's your true motivation? Well, you aren't the first to love a woman knowing she'll never return the feeling. You aren't the first to do anything for her, including take up the cause of the man who rejected and betrayed you. You aren't the first to pin your hopes for redemption on a symbol of innocence, and keep them there even when that symbol becomes corrupt—when it reveals itself to be just another flawed example of humanity. You certainly aren't the first.
Another man who shares your fate: Sydney Carton from A Tale of Two Cities. He wasn't a very good man either, but he gave up his life so the woman he loved could carry on without him. His last words: "It is a far, far better thing that I do than I have ever done. It is a far, far better rest that I go to than I have ever known." Ironic, that. Though you probably don't know why.
So rest, my friend! And don't let the haters get you down. I understand what you're saying.
Sincerely,
Sara Clemens
More Unreal Posts
22 Responses to "Body Language: A Love Letter to Tom Hardy's Bane"
Leave a Reply